Data is one of the most important resources of our time. However, their value can only fully unfold when they can be utilized. Future-proof cities rely on the implementation of data ecosystems to fully exploit the opportunities of digitization. For citizen-centricity, regional competitiveness and value creation.
Cities and communities that want to remain attractive for businesses, citizens and customers have to find answers for their stakeholders' growing needs, increasing urbanization and rising administrative burdens. One answer to all these requirements is the establishment and use of a data ecosystem. It enables cities to share their most valuable asset – data – with companies, citizens, policymakers and researchers.
The benefits of urban data ecosystems
As the "operating system of the future," a data ecosystem integrates and links the urban data of the stakeholders involved, then processes, analyzes, and collects it. This creates synergies and added value for all stakeholders. For the municipality, an urban data ecosystem creates the opportunity to optimize existing processes and to be able to act close to the needs of the citizens. This creates benefits not only in terms of efficiency but also in terms of proximity to citizens. Thanks to smart administration, the municipality can offer its citizens a higher life quality and better access to its services.
For companies, having access to a municipal or communal data ecosystem is notably useful. Cities that are able to provide those data have a competition advantage over other locations. This increases location security by simultaneously creating incentives for new settlements. Policy-makers and researchers also benefit from urban data ecosystems, as policy decisions can be made on an evidence-based basis and research has centralized access to valuable data and information.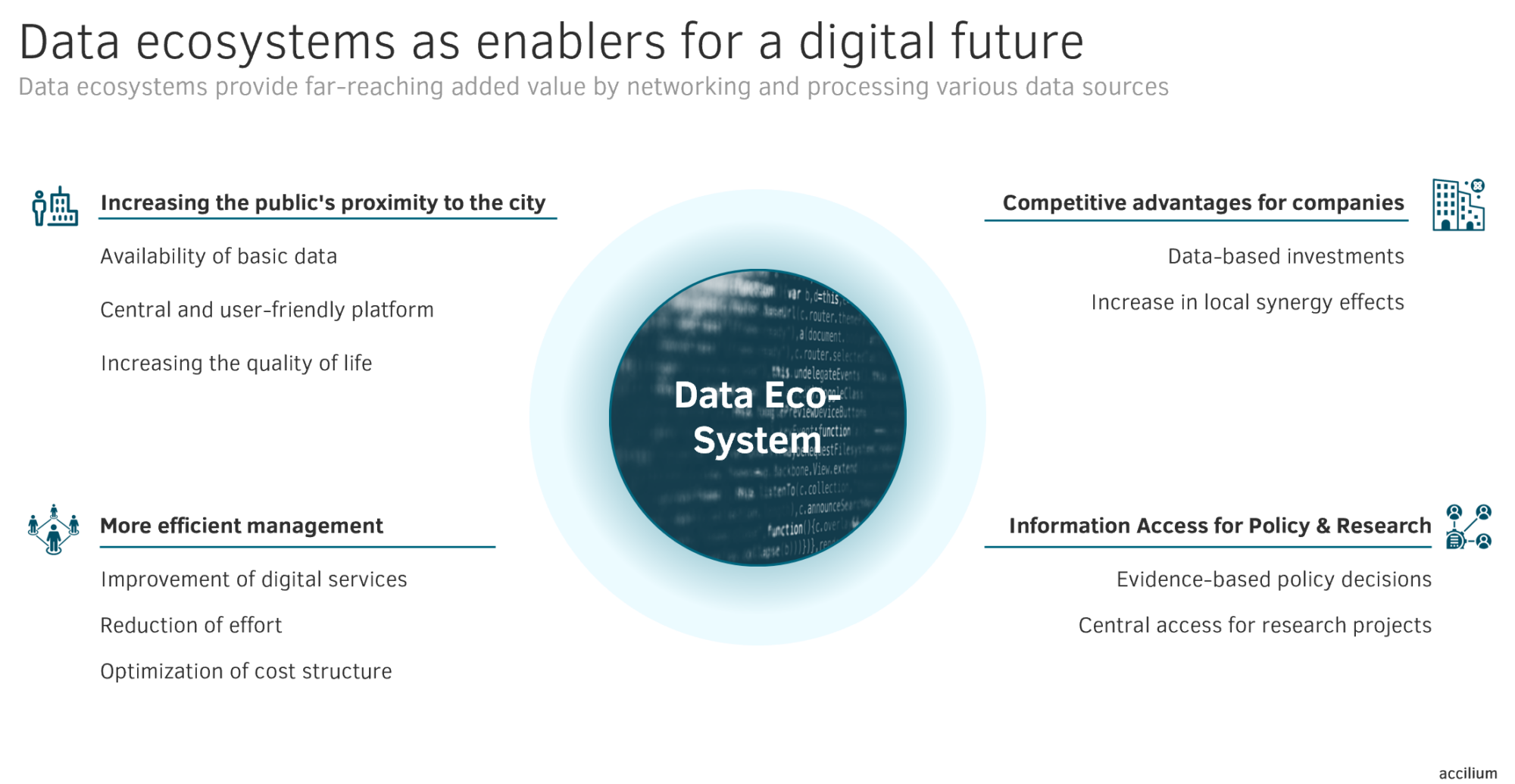 The path to urban data ecosystems
For the creation of urban data ecosystems, it is crucial to modernize the administration and to make administrative services and information available to citizens and companies in a digital and user-friendly way. In this context, the networking and use of the data which is already available is essential.
After all, long-term success is already determined in the development phase. When establishing an urban data ecosystem at the technical level, the focus is often on the IT product, the data platform itself. However, the biggest, most expensive and time-consuming stumbling block is to focus exclusively on the IT product when establishing a data ecosystem without underpinning it with a suitable strategy. Without integrating strategy and technology, the data ecosystem floats in space on its own without being anchored in organizational processes. The result is rejection by users and consumers. A platform can only develop its potential if it is used consistently and willingly.
Linking organization, processes and IT at the right time
Together with QuinScape, we have developed a model that enables organization, processes and IT to be intertwined at the right time, so that they reinforce each other rather than compete with each other in building a future-proof platform. Central to our joint approach is close alignment and constant two-way adjustments throughout the strategy development phase.
This close coordination offers clear advantages for the overall result, both from an MVP (Minimal Viable Product) and a strategy perspective. It is thus possible to gain product-related empirical values at an early stage and to incorporate these into the further design. The operating model developed can be tested in the MVP and the knowledge gained from this is incorporated directly. This ensures that the operating model is optimally adapted to the new technology and remains that way in the long term. Thus, the municipality as the client can be sure that the technology, organization and operating model fit together.
The parallelization of MVP and strategy development simultaneously leads to an early "tangible" result, which means that the involved stakeholders can be integrated into the project early on and can be convinced of the innovations. The introduction can only succeed if all stakeholders are included in the development process and the technological solution is underpinned by a strategy and organizational form tailored to them. For this to succeed, all partners must pull together. QuinScape and accilium offer municipalities precisely this total package.
LATEST INSIGHTS