The rapid evolution of connectivity and autonomous driving in the automotive industry is offering a unique customer experience, but at the same time posing major challenges for OEMs. By 2023, 775 million consumer vehicles will be connected via telematics or by in-vehicle apps. Thereby, particular focus is set on Software Update Management Systems (SUMS) and Cyber Security Management Systems (CSMS), which are complex and highly strenuous for players in the automotive industry.
Now, what exactly are SUMS and CSMS
A Software Update Management Systemprovides a central point of control for software updates. It applies multiple tools, methods and processes that ensure that software-based functions are running safely in the vehicle. With SUMS it can be ensured that updates are compliant, and that the corresponding software-version is being documented.
A Cyber Security Management System monitors security incidents, threats, and possible vulnerabilities. Thereby, OEMs ensure to demonstrate the ability to manage cyber security risks for the vehicle and backend systems. A CSMS enables the implementation, the control, and the continuous improvement of such cyber security activities.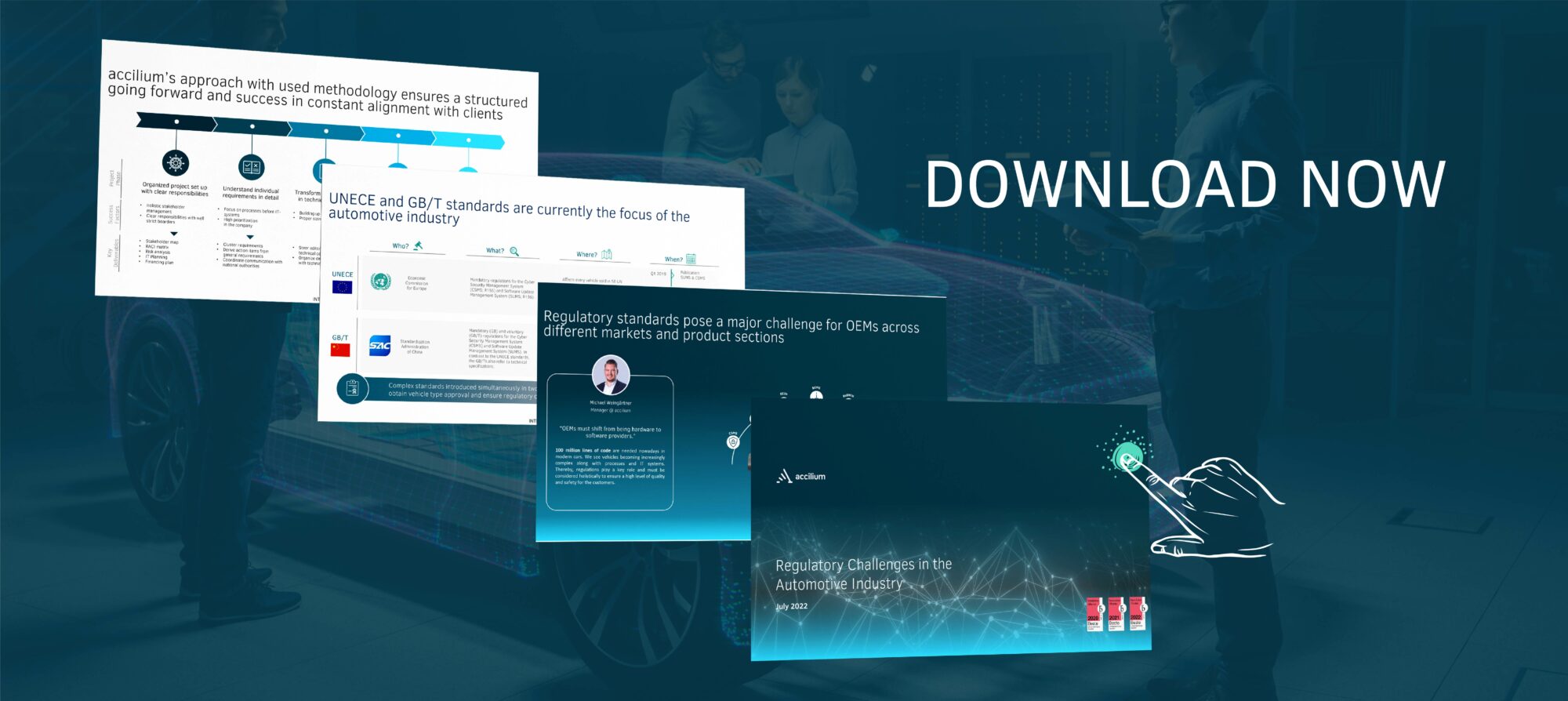 Regulatory standards always represented both progress and safety
To ensure that SUMS and CSMS are brought to end customers with high standards of quality and that systems are secured against potential attackers, uniform regulatory standards are now simultaneously being introduced. Besides specific market regulations, the standards covering the largest and strategically most important automotive markets are the UNECE (56 countries) and GB/T (China) regulations.
accilium as sparring partner for the implementation of regulatory requirements
Many OEMs struggle to implement capable connectivity systems and only a few are able to profitably exploit the arising potential in the aftermarket. When applying the UNECE and GB/T standards to processes and systems, players in the automotive industry are faced with major time-critical challenges – and failure to comply with the regulations lead to a sales stop. Through accilium's extensive experience and proven expertise, we support clients along the entire road with strong focus on strategy and IT transformation within regulatory projects.
Get in touch: