The global vehicle stock has been rising for years. This leads to rising traffic congestion in heavily populated areas across the world. Not just users of overcrowded streets are confronted with inescapable traffic jams, also residents run a greater risk of suffering health issues.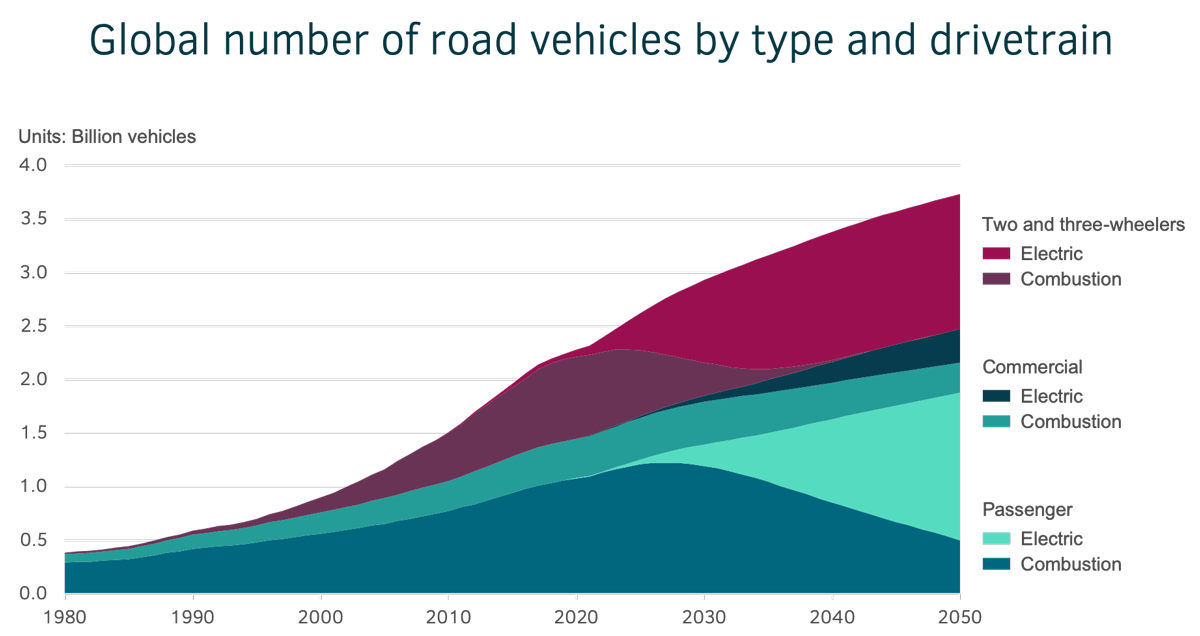 Combustion vehicles include ICEVs and PHEVs. Electric vehicles include BEVs and FCEVs.
Source: Graphical illustration by accilium, Data-source by DNV GL (2019)
Cities, especially, are facing a multitude of challenges in urbanization, environmental threats, or resource scarcity and often struggle with the adoption of new emerging technologies. Today, 75% of the European population lives in an urban area. Projections show that by 2050 the ongoing urbanization trend will lead to a change in the residence of the European human population from rural to urban areas so that this amount will be close to 85%.
Not only because of the rising population numbers, urban areas are also centers of resource consumption and emission of pollutants and greenhouse gases. One major source of pollution results from the mobility and transportation sector – a sector which, despite increased efforts, has not yet shown any sign of declining emissions.
But mobility matters and is a basic need of all of us. We move to meet our friends and socialize, travel to work, to school, or to the next store. City dwellers today use a set of different transportation systems to fulfill their mobility needs, which causes, starting from congestion to rising emissions. New technologies and mobility services offer new opportunities to cope with these problems and create more sustainable mobility concepts. What those could look like and how we anticipate them is core to this article.
Source: Graphical illustration by accilium, Data-source by ourworldindata.org (2019)
Mind the gap – sustainable mobility concepts
When it comes to the term sustainability, we often only mean environmental aspects. But sustainability concepts require a multidimensional approach, therefore we want to define, how we anticipate such sustainable mobility concepts, and which targets should be met.
As a precondition, we presuppose that people should always have the possibility to meet their mobility needs and have a choice between different and affordable transportation systems. These systems are working in a way that minimizes environmental impact and are accessible to every individual. To frame our learnings of years of experience developing such concepts, we have developed a set of principles that should be the very basis of every urban mobility concept:
1. Customer Centricity:
Put people first. The safety and well-being of a city's population should be considered within every decision. People have different needs and preferences, therefore, having the choice between different mobility solutions is fundamental as well as making those solutions affordable and time efficient for them.
2. Clean and renewable:
Public, but also individual transport vehicles, shall have zero emissions at the point of use and shall be powered by renewable energy. Forms of active mobility like cycling and walking are promoted and play an important role within the modal share.
3. Embracing new technologies:
Research and promotion of new technologies and services is crucial to tackle current and future challenges. A regulatory framework that fosters innovative private companies, their products and business models is key for such a development.
4. Data transparency and security:
New mobility solutions widely run on a complex set of data and more so, produce a variety of useful data. All public and private transportation services shall be connected and securely exchange relevant data. Customer's data privacy and security is incorporated.
5. Holistic city planning:
The mobility transition will change the way that people get around in cities. By anticipatory infrastructure planning, cities can lay the foundation for sustainable mobility concepts.
Strategies to reach the goal: Collaboration between different sectors and customer centricity
After setting the fundamental principles for a city's mobility concept, the question is, how we can reach those targets. We are convinced, that collaboration between different participants is needed when it comes to following through on the defined set of principles of sustainable mobility concepts. The necessity of collaboration between several actors can be explained best by the simple acronym C.A.S.E., which describes the vehicle of the future and stands for Connectivity, Autonomous, Sharing/Service and Electrification.
Derived from our set of principles, it is relatively easy to identify the three main participants, which must be brought together. First, you have the public sector. That does not mean a single, narrowly viewed municipality, but cooperation between greater subregions. Coming back to C.A.S.E., one example cities must ensure is, that they deal with C – Connection, in a proactive way. It will be essential, that public and private vehicles communicate with each other as well as with different elements of the transportation infrastructure – i.e. traffic signals, parking facilities and transportation schedules. A flexible, evolving regulatory framework that supports and integrates upcoming, innovative solutions can pave the way for effective collaboration with the second participant: Transportation and more specifically the automotive sector.
In this second sector, we see traditional automotive and manufacturing corporates, startups and research organizations. These players develop new services, technologies, and business models which supplement and enrich public transportation services. Breaking it down to C.A.S.E, this sector is the main actor, when it comes to developing future vehicle technologies, mobility ecosystems and related business models.
The third important participant in shaping future mobility concepts is the energy sector. C.A.S.E. contains Electrification and the clear vision of a clean and renewable energy transition. With a shift towards renewable resources and electric vehicles, existing energy companies must rethink their business models and adapt to future needs. Building an electric future requires profound knowledge about the entire energy value chain.
A prerequisite for developing future mobility solutions is about understanding customer behavior and needs as well as improving access to mobility solutions for all citizens. The consumer perception is changing, one-fits-all approaches no longer exist and a multitude of solutions working together is necessary.
Bringing together different participants and satisfying customer needs is our passion. Therefore, we know, that it requires an orchestrator when it comes to new ways of collaboration between different industries. With the main focus on the automotive-, public- and energy sector, accilium and DNV GL have extensive knowledge about the three main participants of future urban mobility solutions and together we are providing individually tailored solutions on the specific requirements for each mobility concept.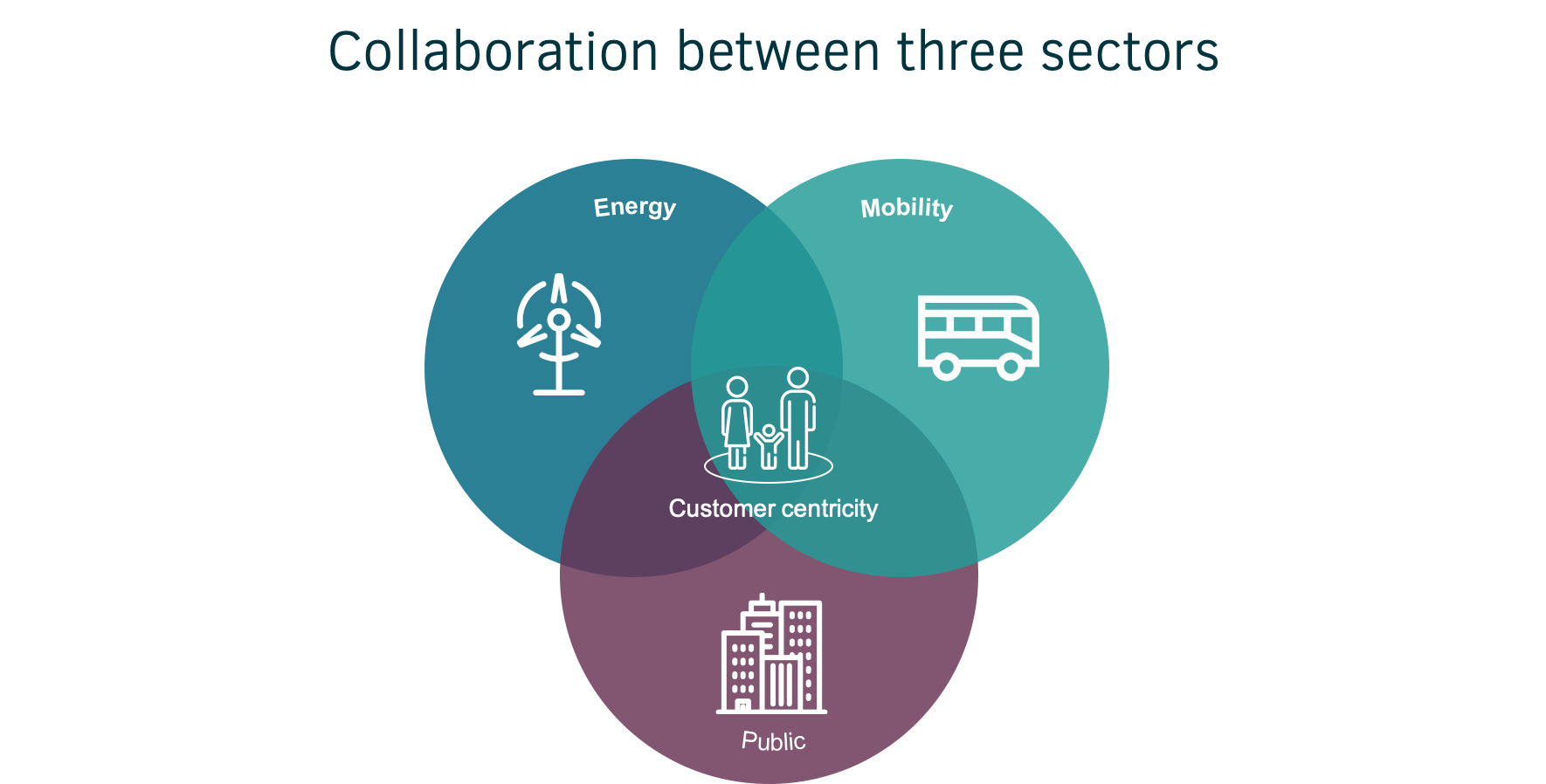 Conclusion 
The need of mobility is bigger than it ever was before and we at accilium and DNV GL embrace a world moving closer together. So, 'how we can reduce the mobility demand of our society is not the right question to us. We ask how we can transform our system into a more sustainable one, serving the needs of all citizens.
New technologies have the potential to be a real game-changer for the city's mobility systems and we are gladly willing to take up this challenge. We know that every municipality and region is unique and strives for its own solution, but there is one thing they all have in common: The desire to be a popular place to live, work and visit – and the enabler for that desire is and will always be mobility. 
LATEST INSIGHTS