Applied Artificial Intelligence in logistics, production and quality management
Artificial Intelligence, abbreviated with AI, is considered to be the most relevant cross-sectoral innovation of our time. Within the industrial sector, it will be the driving force behind Industry 4.0 and the Industrial Internet of Things revolutionizing manufacturing as we know it today. While the potentials of AI seem endless, concrete application examples are rare for many companies.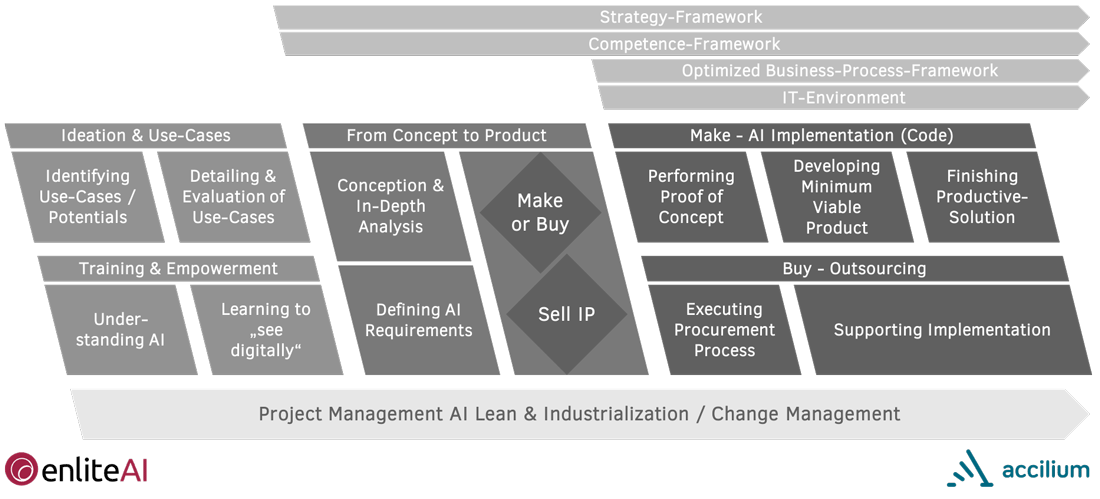 accilium and EnliteAI developed a structured approach for the application of AI
accilium together with platform partner EnliteAI aim to close this gap. Therefore, they jointly developed a structured approach, which allows small-up to corporate-size organizations to identify use cases for applied AI within logistics, production, quality management and beyond that. 
Further it includes accompanying training, in-depth analysis to take qualified make/buy decisions, as well as support for the full development of the software and implementation within the organization. In order to ensure a smooth project delivery, project management and change management are part of the deal. As well as making sure the strategy-, competence- and business-process-frameworks and the IT-environment are adapted accordingly.
From the first idea to the successful run of an applied Artificial Intelligence solution 
Above all, accilium and EnliteAI combine a number of advantages for their customers. Instead of talking about strategic could-be's, we strive to deliver effective results, i.e. working products, which actually help our customers with current issues.
Hence, we start with a manageable scope, which allows quick decision-making and clear responsibilities. Coupled with using our comprehensive expertise of data, processes, methods and tools, as well as our experience in implementing new technologies within large user groups, we are able to offer the full service from the first idea to the successful run of your applied Artifical Intelligence solution.
Contact us now to find out, how your company can benefit from AI!
At the Applied Artificial Intelligence Conference 2019 , on the 27th of May in Vienna, you have the chance to discuss the potentials of AI in person with Alexander Rauscher (Managing Partner, accilium) hosting the panel on AI in manufacturing.