accilium is a boutique consultancy, which has recognized that digitalization and automatization will affect not only everyone's daily routine, but also the overall qualification requirements and employment models. Consequently, our approach is disruptive, interdisciplinary and future-oriented.
Digitalization – What does it mean for business communication?
The digital age is omnipresent and embedded in an increasingly complex world. Every hour, 8 billion people are trying to communicate across countries, time zones and based on their individual mental models. On top of that, many meetings do not take place in-person but are based on remote collaboration.
The expression of content, the pace of a conversation, as well as each other's body language are more limited when using video conferencing tools such as Skype. This results in misunderstandings, inefficient discussions and stressed employees.
accilium is aware that it is necessary to grasp the problem at its roots, to re-think communication and to overcome frustrating meeting sessions. That is why we teamed up with Arthur Technologies. Arthur Technologies is a startup company, which provides a VR Conferencing solution for teams that are dealing with complex challenges such as product meetings, strategy sessions and creative workshops.
Virtual Reality is complementing physical meetings
Arthur´s product combines the power of physical meetings, with the simplicity of video calls. Thanks to a personalized and digitalized avatar, the expression of the individual body language becomes more realistic, thus interactive. Additionally, VR-rooms offer its participants the possibility to make notes, rough drawings or use the voice application which represents an interface with the software.

This supports the maintenance of concentration within the group and creates a balance between speaker and audience. VR-meetings also affect the limbic system of people. Hence, our brain is able to connect emotions to the experience we have made in VR. The positive long-term effects are ownership and increased commitment.
"Train the Trainer"- use case
Train the Trainer gives global organizations the ability to be highly flexible when it comes to the individual education of employees within a short-term and independently of time zone and location. Simultaneously, costs and greenhouse gas emissions can be reduced.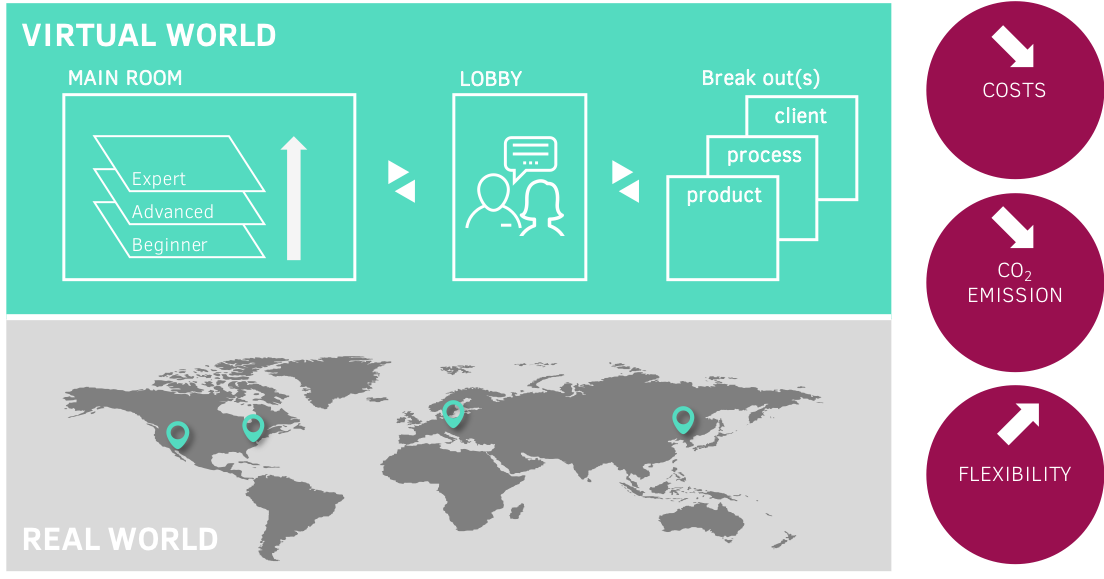 Furthermore, to create a sustainable education process Arthur Technologies provides an organization-oriented functionality, meaning that your training session will be held based on your company culture and individual expectations.
accilium & Arthur partnership:
We are convinced that frustration, miscommunication and boring meeting sessions belong to the past. The new area of VR has already started and only awaits you to dig deep into it and enjoy.
Come join us! See you in VR. 
Photo credits:
Photo by Drew Graham on Unsplash